| | |
| --- | --- |
| Cromwell takes Bronze in the Individual Time?Trial | |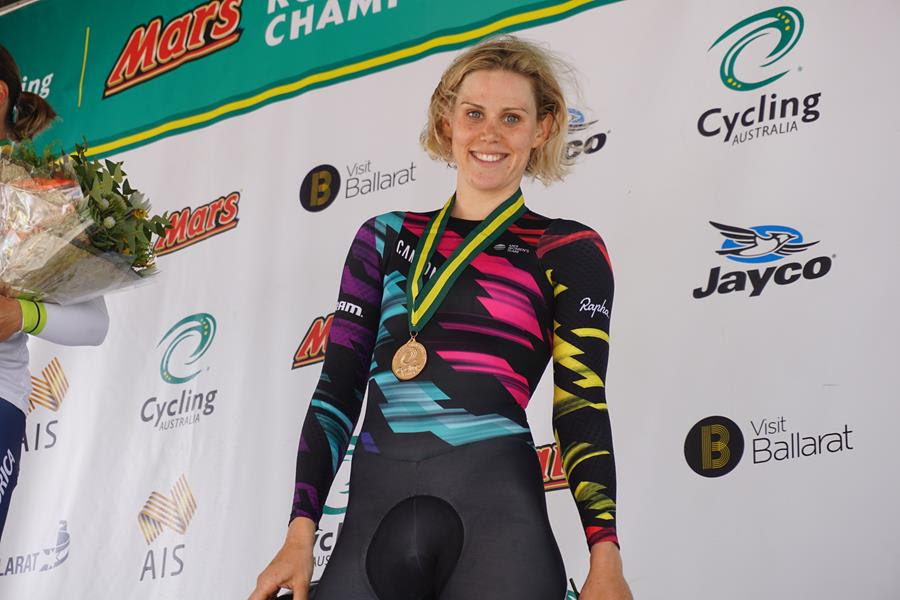 Buninyong, Australia, 07.01.2016 – CANYON//SRAM Racing have started the season in flying form with Tiffany Cromwell finishing on the podium in the Individual Time Trial at Australian National Road Championships today in Buninyong. Cromwell took the bronze medal in a time of 44:54.10 for the 29.3 kilometre course. The Green and Gold Jersey went to Katrin Garfoot (43:16.37) with Shara Gillow (44:02.49) taking silver ahead of Cromwell.
On an undulating and windy course, the CANYON//SRAM Racing rider started fast, taking her minute marker within the first six kilometres of the course. But Cromwell said conditions were never easy. ?It was a tough course out there, it really was. I thought maybe I went out a little bit too hard. The way back was always difficult but I managed to push through and there was some good motivation to help me get over the last few climbs.?
?I knew I was on track for a podium spot because I had Beth Duryea as DS in the radio with the intermediate splits. When I passed Kendelle Hodges my minute marker quite early and then could see Gracie Elvin, although she?s not renown for time trialling she still is in good form, so I also knew then that I was on a decent race. I always knew Katrin Garfoot would be really hard to beat of course and Shara Gillow can have good form at this time of year. My goal was obviously podium, I said that before the race, but I knew there were also several people that could make that podium too. So to target it and achieve it, I?m really happy. Of course I have to give a big thanks for the fantastic equipment from our partners.?
The form of Cromwell at Buninyong this year has some people surprised but the CANYON//SRAM Racing rider explained to the media after the race that she is more a focused and smarter rider now. Cromwell said ?I?ve been more focused this pre-season coming into Nationals. In the past I?ve let travel and wanting to go everywhere and do everything get the better of me. Since November 1 I?ve been a lot more focused, already with my training program in Europe. I?ve been looking at the 1 and 2 percent things and I just feel I?ve finally learnt a lot. We had the team training camp in Mallorca, there is a great buzz around this new team, with our excellent partners and a lot of support from them that also helps.?
Looking ahead to the road race, Cromwell knows that there will be a target on her back but also reminds that she herself was once in the national and Orica-AIS teams. ?I know I will have a target on my back. But I also know a lot of the tactics of Orica-AIS. I feel this year is my best chance, and that now I?ve matured a lot as a rider. I?ve always been tactically smart, but before when I?ve been in a good position, I haven?t used those strengths the best. Now I?m more calm and confident. The road race is the main target for me but it can be a bit of a lottery. However I wanted a podium spot in the time trial so to achieve it today I?m really happy.?
The Women?s Road Race will start at 08:00 AEDT on Sunday 10 January / 22:00 CET Saturday 9 January. Live action can be followed on the team?s twitter account @WMNcycling as well as a live stream Periscope interview with Tiffany Cromwell following the race.
By Beth Duryea
Tiffany Cromwell on her way to the finish line ?Kirsty Baxter
| | |
| --- | --- |
| Australian/NZ Marketing Manager Nadine O'Connor was there to cheer on Tiff Cromwell ?CANYON//SRAM Racing | Podium from the Women's ITT: 1.Garfoot, 2.Gillow, 3.Cromwell ?CANYON//SRAM Racing |